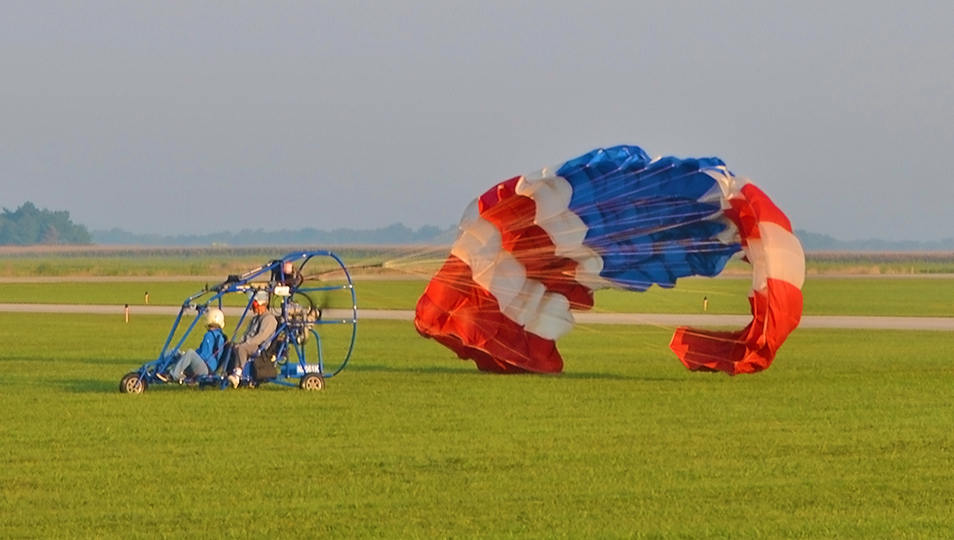 Powered Parachutes
A powered parachute is a personal aircraft with a propeller-driven cart suspended from a parachute, which acts as the wing. The carts can be either three-wheeled or four-wheeled and the engines vary in power from roughly 40 horsepower up to as much 190 horsepower.
Powered parachutes are mostly recreational machines, offering flight experiences that are hard to duplicate with other types of flying. Slow, low altitude, open cockpit flying is what many people dream about when they have dreams of flight. This is exactly what a powered parachute does!
Powered parachutes fly at about 25–35 mph, although faster speeds have been attained up to a record speed of 49.5 mph. Their slow speeds make them ideal for flying safely close to the ground, although some people fly them over a thousand feet up with the current world record holder having attained an altitude of 18,710 feet mean sea level (MSL).
In the United States, powered parachutes may be flown as either ultralights or as certificated aircraft. Ultralight versions are lighter, carry a maximum of five gallons of fuel, may only be flown during daylight hours, and are single-seat only. The benefit to the ultralight version is that there is no licensing involved. Certificated powered parachutes aren't limited by the ultralight rules, but pilots need proper training and certification.
The FAA offers two levels of certification for powered parachutes, Sport Pilot and Private Pilot. Both ratings allow a pilot to take a passenger along for the flight. However private pilots are also able to fly powered parachutes at night. Easy Flight is one of the only schools in the United States that can train and certify students for both Sport Pilot and Private Pilot Powered Parachute ratings.
Powered parachutes differ from powered paragliding in that powered parachutes have landing gear and powered paragliders are primarily foot-launched. However, some wheeled parawing aircraft are marketed as 'powered paraglider trikes or quads'. Those aircraft are almost universally flown as single-place ultralight aircraft, since once you build an aircraft that isn't an ultralight, it is illegal to fly unless it is either certified or operated under an exemption to FAA rules. (Normally for training purposes only)